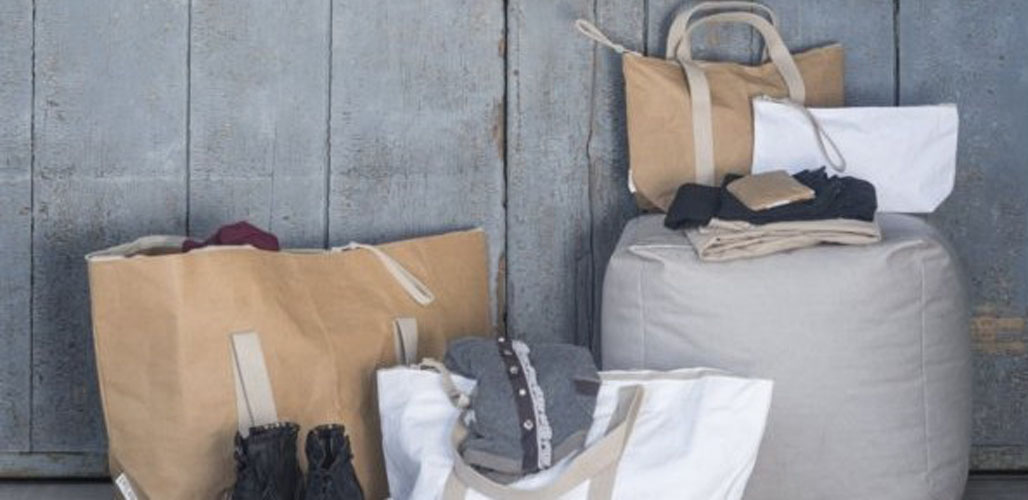 Four are the words which identify the brand: Essentiality, Sustainability, Authenticity and Beauty

- Essentiality
Essent'ial is a concept, a way of life. To live each day with respect towards people, to the beauty, culture and nature. To catch the essence of life.

- Sustainability
Items are all made from recycled and certified raw materials. Deep respect for the environment, the land and our culture.

- Authenticity
Designed objects for everyday use. They looks like paper without form, in reality our products are resistant, washable and beautiful!

- Beauty
Clean, simple shapes are brought to life by materiality: the beauty of simplicity!

For nature lovers, for people conscious of the environment who feel more and more strong and intense the need to live environmentally friendly, here is a vast range of products created, designed, feel and born to give the possibility to live GREEN! You will find in this range of products the practicality, comfort, robustness cleverly married the fashion idea, only using ecological materials.

The foundation
Essent'ial was founded in 2006 and is produced and distributed by A.G.C., a company that since 1999, as a typo-lithography, bases its creative and innovative skills in the world of print media with extreme unconventional canvases and materials. Following its education, it supports the issues of environmental protection taking them concretely in the daily productive practice

Eco-sustainability and corporate social responsibility
AGC continues in this direction by making further management improvements such as: analysis of consumption, the recycling of packaging materials, reducing energy loads, the controlled use of solvents, inks and raw materials, along with the careful selection of suppliers and with the use of ecological papers and fibers, FSC certified**. Such a sustainable and responsible manner has allowed AGC to get the deserved award for Corporate Social Responsibility in 2007 and in the year 2009 with the Essent'ial project, for having been able to develop a project for the recovery of unused materials and that at the same time creating employment for people. The company was one of the first business realities that have been part of the Club of Modena Businesses for Social Responsibility. In recent years it has been in fact defined with many adjectives, including eco-design, eco-chic, thanks to its constant attention to the eco-sustainable issues, with the use of recycled or recyclable materials. Since 2013, some Essent'ial products have been certified 'Remade in Italy' (*). In December 2014 it was renewed the FSC COC certification, A.G.C. It is among the companies FSC certified since 2010.


(*) Remade in Italy is a new generation of Italian certification, which certifies the use of recycled materials in products made in Italy. Its release is done by a certifying body, independent and accredited, together with the Association Remade in Italy, based in Milan and which one of the founders is the region, the Chamber of Commerce and the CONAI, have developed a system of certification of products and recycled materials. The Remade in Italy products are distinguished not only by the same brand, but with a label that contains information related to environmental sustainability, in terms of saving raw materials, reduce energy costs and reduce CO2 emissions related to recycling.

(**) FSC (Forest Stewardship Council) è un sistema internazionale di certificazione. Con il marchio FSC, rilasciato da un ente certificatore indipendente ed accreditato, vengono identificati i prodotti che contengono legno proveniente da foreste gestite in maniera corretta e responsabile secondo rigorosi standard ambientali, sociali ed economici.

Always aware to sustainability, reuse of materials, without losing attention to the design of its products, Essent'ial offers a collection made of natural materials, such as cardboard, recycled paper, FSC certified * cardboard and cellulose fiber.