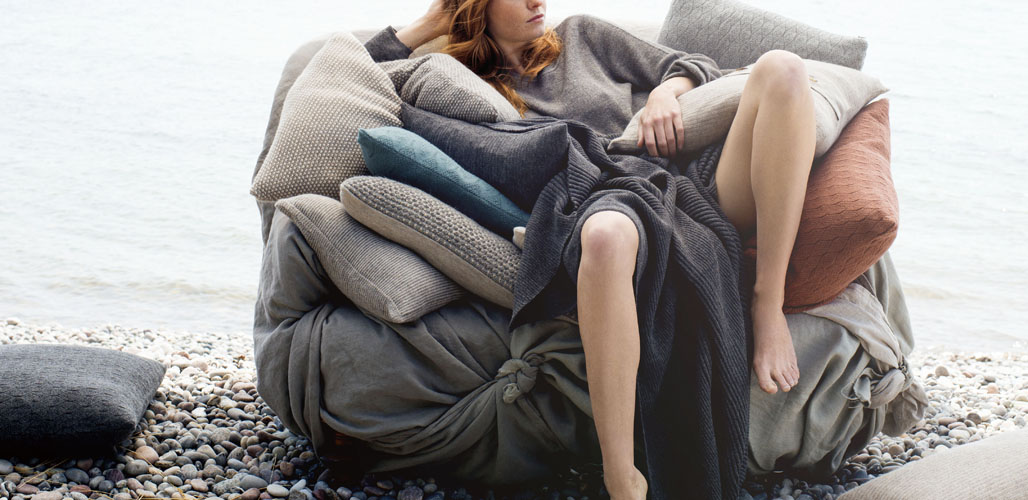 Simplicity is the ultimate sophistication! This is the Aiayu mood!

In all aspects, this company was founded to go its own way, always striving for the best and keeping the concept simple and transparent. The designs are new classics, lasting long beyond fashion, colors and shapes. Everything is carefully crafted at its origin, where the expertise to handle it, is the greatest. All working process has been upgraded to European standards. All has been done to improve and facilitate working conditions for factory people. Particular care has been given to ensure minimal harms to the environment in the production process. The company is rooted in love for quality and sustainability, with a mission to create rich and durable products with an extraordinary story.


DESIGN
The design process is founded on a strong belief for a transparent and sustainable value chain. Aiayu strives for long lasting designs in durable material, rather than fast moving trends. Natural colors are treasured, rather than dyed, and high quality working conditions are favored over high quantity output. From the beginning, the design concept of AIAYU has been to manufacture products, where the material and expertise has its origin, in order to obtain the best craftsmanship and finish. The Company wants to take responsibility throughout the entire value chain and strives to ensure full transparency of all key processes. Strategically they have therefore chosen to work with only one manufacturer who covers the entire supply chain from sorting of fibres to dyeing, spinning and finishing production. Aiayu cherish long lasting collaborations with all business partners based on the belief that the knowledge should be build together because this is essential to obtain the best product for the end consumer. "Concentrating on exploring one material with one producer has given us a very unique understanding and knowledge of the beautiful potential of the llama wool. It gives us the best of the best, and keeps our concept strong and transparent. Instead of being distracted by the billions of possibilities within fashion, all inspiration and energy is put into making each product unique, beautiful and longlasting" - Maria Høgh Heilmann


ORIGIN
AIAYU wants to explore, celebrate and preserve unique craftsmanship and extraordinary materials. In Bolivia AIAYU found a previously unknown llama wool quality that undergoes a manual de-hairing process, which is not used anywhere else in the world. The quality is unique in its softness and is less prone to pill due to the long fibers of the llama. In 2006 AIAYU became the first brand to introduce this kind of processed llama wool into the fashion industry. The manufacturing process takes place 4000 meters above sea level in El Alto, Bolivia. Here the 85% of the population is indigenous people with a strong tradition and virtue of knitting passed on from generation to generation for centuries. The people of Bolivia, has taught AIAYU new techniques and have equally been willing to learn and collaborate to meet the needs of the western world. By creating job opportunities in Bolivia, and at the same time preserve the cultural heritage and tradition of knitting, AIAYU is proud to offer you the best quality, made with lots of soul in the remote highlands of Bolivia. AIAYU means "soul" in the native tongue of the indigenous people, and was a name carefully picked by the workers, making it even more special.


RAW MATERIAL
AIAYU has made a great and conscious decision to manufacture using this little known llama fiber. This fiber has a number of unique properties: it is hollow and light, provides superior insulation and a natural softness. The fiber is longer, stronger, more durable and naturally hypoallergenic compared to other wool fibers. In addition, the llama fiber is sustainable by nature; it is a by-product of a natural environment and harvested with minimal damage to the environment, as well as the llama. Once the llama has been sheared the fleece is sorted by hand according to: length, fineness, and shade of color. Then the fibers are washed and dried carefully.


FIBER REFINEMENT
Aiayu products are very unique because all key processes are controlled and performed in-house. After a complicated carding and combing process that removes all short fibers, the llama wool is prepared for spinning, which takes place in-house, ensuring greater visibility and quality control. The knowledge and techniques used in spinning and knitting is essential to ensure the look, softness and quality of the final garment. Incorrectly spun or knitted yarn can result in a bad finish and durability of even a high quality material. All AIAYU products are produced from the same base material, but are spunned in different thicknesses and tensions creating a wide range of "looks and feel" of the yarn. After many years of experience with the same producer and the same material, Aiayu end-product has reached a very high quality. The next step in the value chain is dyeing, another in-house process. The llama has the advantage that they come in a broad range of natural colors, ranging from pure white through grey, brown to black. To minimize the use of dyes and chemicals, dark fibers are used for dying dark yarns and light fibers are used for dying light coloured yarns.


KNITTING
AIAYU articles is built on a strong collaboration between traditional Bolivian craftsmanship and Scandinavian design. Knitting possibilities have been widened and refined with the newest developments within knitting machines, steamers and linking machines implementation. All machine knitted items go through a piece by piece quality control and are carefully finished by hand, making the inside just as refined as the outside. Each hand knitted items is an individual pieces of art. The stitches are developed in collaboration with the women who knit and represent treasures from the old Bolivian knitting traditions. Each garment can take up to 7 days to produce, even for the most skilled handknitter. Her initials are beautifully stitched into the garment, as a greeting to you from her.


PACKAGING
All material, from the hangtags, to the postcard and other materials, are printed on FSC certified and recycled paper.


CONSUMER USAGE
With a strong focus on long-lasting design and qualities, AIAYU will remain in your wardrobe season after season. A sustainable way of life also includes buying items you don't want to throw out. Approachable and usable daily-wear is what makes AIAYU one of the 'quiet' luxuries of your everyday. Water waste is not only relevant in the production process, but also how it is treated in the hands of the consumer. Pure llama wool is a self cleaning fiber and requires less washing than other materials. Save resources and time by simply airing your AIAYU products.